More than a decade ago Eric and I talked about what we would want to do for our 40th birthdays. (Being the cougar that I am, Eric is three months younger than me)  I wanted to go to France and Eric wanted to see a European football match (soccer).  Our kids were finally old enough to leave with the grandparents for two weeks.
We chose late September/early October as go time.  Summer is either really busy or abandoned.  The French traditionally take a 6 week holiday in the summer, so make sure you understand that some things may be closed during this time.  In the south of France early October is still warm and the tourist beach attractions have not yet closed up for the winter.  They close mid-October.  The weather is usually nice throughout the country this time of year.
Nine months prior to our proposed time, I started researching airfares.  I set a TripAdvisor alert for Paris Airfares.  Flights were generally $1,400 round trip from Salt Lake City.  I would also check Delta Airlines to see how many SkyMiles it would be to get there.  We had been saving them up for quite sometime.
This became a waiting game.  We were not locked in on particular dates, which it is nice to have some flexibility.  Four months prior to the trip, I found airfare for 60,000 SkyMiles round trip for each of us.  This, if you are unaware, is quite a deal.  It was time to pounce.
We were looking to spend a week in Paris and a week in Nice.  I found the best way to save on airfare and/or miles is to book the ticket as a multi destination if you plan on hoping around.  It is actually really easy, just make sure you are doing the advanced search on Delta's site.  When pricing flight through Delta Airlines choose miles or price and then use the calendar view feature.  The calendar view is especially helpful if your travel dates are not fixed.
We wanted to fly to Paris first and then out of Nice.  The first flight ended up being a direct red eye flight from Salt Lake to Amsterdam, with a 3 hour layover.  We could have had a shorter layover, but I didn't want to risk it.  However, Delta has flights almost hourly from Amsterdam to Paris, so if there was a delay you would probably be easily bumped to the next flight. Flying directly to Paris would have cost substantially more miles, so we decided that the layover was not a big deal.  The monetary tickets cost was not much different from the direct flight, so that could be something to consider if not using SkyMiles. (FYI, I generally don't go for domestic layovers – not worth it).
On the way back we flew from Nice to Amsterdam with a 13 hour layover.  This was intentional and was a great use of time. I will go into it in more detail later.  Point being a layover is whatever to make it out to be.  And no Dad, I didn't smoke weed there.
Now we have a way there, time to start looking for a place to stay.  I would definitely do it in this order; flight, accommodations and then activities.  We originally thought we would want to stay in a hotel.  Hotels in both Paris and Nice were very, very expensive.  Generally upwards of $250 a night in a good neighborhood with easy access to the sites.
We started thinking that we would want to get a better feel for living in Paris and started researching Airbnb.  I really enjoy researching neighborhoods, customer reviews and access to attractions.  Airbnb makes this very easy to do this research.  I will post specially regarding how to research on Airbnb.  We ended up choosing:
We absolutely adored this studio apartment.  We were able to settle in and feel part of the neighborhood.  It was in easy walking distance to the Metro.  We liked having everything we needed, especially not having to go out for breakfast each day.  The owner's father met us upon arrival and provided us with information on things to do.  Way better than a concierge at a hotel. The entire week cost around $600.  Big savings!
We were meeting two other couples for our week in Nice so we need to find something bigger.  We went with:
French riviera dream : house + pool
This three bedroom, three bath house with a pool was great for all of us to gather.  The pool was not heated and it was a little cold to use in October, but we weren't sitting around with time to lounge by the pool anyway.  Biggest selling point was that it costs each couple less than $500 for the week.  We had plenty of room and it was beautiful.
Now that we have a place to stay we need to figure out how to get from Paris to Nice.  We booked the TGV high speed train.  We did not book at car for either location because we didn't think we would want or need it.  More on that later.
From here it was time to start planning what we would do each day.  At this point I will walk you through what we expected and what really happened.
September 27, 2015 – Salt Lake To Amsterdam
We paid $100 each to upgrade our flight from Salt Lake to Amsterdam to Delta Comfort.  Eric may say this was money well spent, but it wasn't really for me.  International Delta flights come with beer and wine.  Comfort seats come with mixed drinks, more leg room and nicer "good night kits".  Other than that, they weren't much different.  I am 5'2″ so the extra leg room was actually a problem.  I propped my bag under my feet, but they still didn't touch the floor.  This can get really uncomfortable.  The option to upgrade was not available on the way back, so I was actually more comfortable coming home.  The first class seats ran upwards of $4,000, which I just could not justify.  It is my understanding, having talked with Delta employees, that they never upgrade customers free of charge on the flights to Europe.  They would rather then sit empty, so they stay a premium.  I am sure they are very comfy.
Our flight left a hour late, but was much shorter than quoted.  Heading east you can catch one hell of a tail wind.  I drank some wine and slept pretty well.  Eric stayed up all night watching movies.  Whatever.
September 28, 2015 – Amsterdam Airport then on to Paris
We were pretty delirious during the layover.  The terminal that we were in was a total dump.  We later found out that the rest of the airport is actually very nice.  They had just not gotten to remodeling this terminal.  In this terminal, I swear I walked outside to get to the restroom.  Weird!
We flew AirFrance from Amsterdam to Paris.  The plane was a little worn out, but the worst part was the snack; hummus with peppers on a mini banquette.  Yuck!  And this from a country known for their food.
We took the train from the airport to the city.  The train portion went well.  Being delirious at the transfer station was not pretty.  It was rush hour.  I went through the gate and Eric's ticket wouldn't work to exit.  We both got a little flustered.  Luckily another traveler told him to squeeze through behind the next person and like that, we were in Paris!
We met our host's father at the apartment and settled in.  We had been told to try and live on their schedule as soon as possible.  We forced ourselves to go out to dinner.  Not understanding the sizes of their carafes, I ordered the equivalent of an entire bottle of wine for myself with my dinner.  Off to a good start.  Nervous about using our French, we ended up with a waiter that had lived in New York and generously spoke English.
After dinner we explored the neighborhood and discovered that we were walking distance to Moulin Rouge and the Paris sex shops.  Even with this we loved the neighborhood and it's scene.  Off to bed, we managed to stay up past nine.  Winning!
September 29, 2015
Sleeping in a little later than planned was a necessary evil, but not too late mind you.
We were determined to start using our French as much as possible.  I have had five years of French; Eric only knew crass phrases that I thought him.  He quickly learned how to order his pain au chocolat.
Before our trip we bought the Paris City Pass.  They were pretty expensive, around $250.00 each if booking today.  I think we paid around $180 since they were on sale and off season.  It included 60+ things, many that we were planning on doing already.  It included a six day pass for the metro.  (Side note; make sure your metro ticket gets validated when entering the station.  The Metro Police tried to fine us $100 Euros each, saying that we jumped the turn stile.  I insisted on speaking with a superior and had them call the station we entered.  They found that station's gate was broken and conceded that we had done nothing wrong. Don't be afraid to speak up for yourself, but be respectful.)
We picked up the passes which included one day on the Big Red Bus.  Since we were a little tired we decided to get on it immediately. The parts of the tour we saw were fabulous and I highly recommend it.  While on the bus, our friends from Nebraska made contact; they were in Paris and wanted to meet up.  We hopped off the bus at Musee d'Orsay.  We didn't find another opportunity to ride the Big Red Bus that day.  I wish I would have thought that one through better. It has to be used all in the same day.
So happy to meet up with our friends!  Musee d'Orsay was included in our City Pass and you got to skip the line.  Paintings by Toulouse-Lautrec to Vincent Van Gough adorned the walls.  Keep in mind, if you have a friend that blurts out whatever he is thinking…keep your distance in a History of Prostitution Art Exhibit.  During one such exhibit he stated rather loudly, "Wow, that is full on porn".  However, the French seemed to think he was rather funny. He is rather funny.  Love you Johnny!
After, the four of us headed over to the Eiffel tower.  We paid 17 Euros a piece to go all the way to the top.  Why would you only go half way?  We were concerned that it would be one of those over-rated things.  IT WAS AWESOME!!!
That night we used our city pass to take the evening Seine boat ride included.  Alone it would have costs 15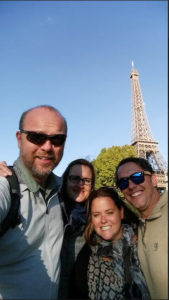 Euros each.  The ride was gorgeous.  It was a little windy and cold so we did not sit up top, which would have been nice.  Being the lush that I am, the one thing I thought the boat ride was missing was a bar.  Why would they not have a bar?  Are they not interested in making more money?
We finished off the night with a late dinner in the Latin District for fondue.  Rebecca, now at the end of her two week french vacation, fluently spoke with the waiter.  You can't miss with french cheese, wine and good company.
September 30, 2015
Versailles is included in the City Pass! Tickets range from 18 to 25 euros regularly.  We took an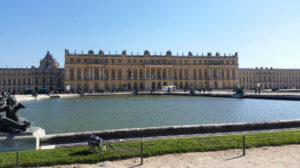 inexpensive, one hour train ride from Paris to Versailles on Rail Europe.  Loved seeing the suburban Parisian outskirts.
Versailles is an is an all day adventure.  The palace is like nothing you have ever seen before.  Make sure to patiently listen the the audio tour (for reals).  Unless of course you are a boring person who hates history and culture.
We then walked around the grounds and went on a hunt for Marie Antoinette's Village.  It is a little difficult to find (the signage is not very good), but well worth it.  I believe that it took us over an hour to figure out where we were going, but saw some cool stuff on the way.  Not many people venture to this part of the grounds.  Had a nice late lunch by the pond while people enjoyed their afternoon laying on the grass.
Somehow we ended up getting a free train ride back to Paris.  They had to replace our tickets that weren't working before (see above for story about our run in with Metro Police) and we ended riding for free. Winning again.
October 1, 2015 – Museums/Getting Our Moneys Worth
I have found that it is good to have a day in town after a day away to break things up.  This day we rocked the museum circuit.  Starting at the Louvre (city pass, cha ching).  You really can spend more than one day here and in fact we went back the following Sunday.  If you don't have a lot of time here are the can't
miss items.  Napoleon Apartments (best part of the whole museum), Winged Victory, Mona Lisa (but read up on why it is so famous), sarcophagus exhibit,  Winged Bulls (they are bad ass) and Victory leading the people (this one just because I like it).
Also included in the city pass was wine tasting at Chateau Wine Bar. They take you down to this beautiful cellar for the class.  Reservations are required, but it was included in the City Pass.  We paid extra for a cheese and meat plate, totally worth it.  They take the time so that you get to know the others in the group.  Our group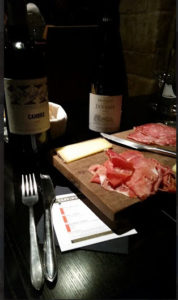 had people from Argentina and Australia.  We were having such a nice time that we stayed for another glass in the the restaurant while chatting with the waiter and some other tourists.  BTW, dress like a normal person.  Tourists stand out that wear their money and ID around there neck.  It screams, "Hey, come mug me!"
Then we headed to another city pass location, the Pompidou Centre.  The crazy outside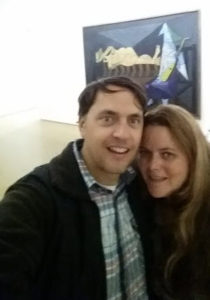 escalator architecture is worth seeing in and of itself.  This is a modern art museum and may not be your cup of tea; or since we are in France, glass of wine.  Best place to see a Picasso and located in a traditional Napoleonic part of town.  Don't be a lame-o and go see this.
Time to act hoity toity and walk along the Champs-Elysees.  This is where the fancy hotels and shops are.  It also seems to be somewhat of an American tourist trap.  Worth seeing, but be aware that waiters take advantage of unwitting tourists.  In France people do not generally tip and tax is included in your bill.  Our dinner on the Champs Elysees was the least impressive of the trip and the waiter added automatic gratuity of 20% for a party of two.  Jerk Face!
October 2, 2015 – Monet's Garden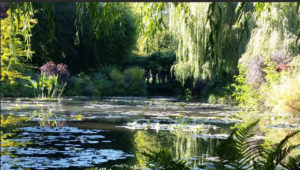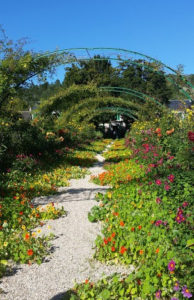 Eric and I fell in love during our senior class AP Art History trip to San Francisco.  This excursion seems like a no brainer for us, but I feel it is on of  the most beautiful places on Earth.  This was highly recommended by the our Airbnb host.  Monet's Garden is a half day trip to southern Normandy.  You walk his gardens and see the exact spot that he painted Water Lilies.  You also tour his home.  Giverny is an adorable town and I wish we would have had more time to spend there.  The bus ride was also very scenic. If I could squeeze fifty photos here I would.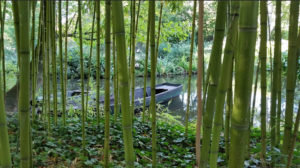 I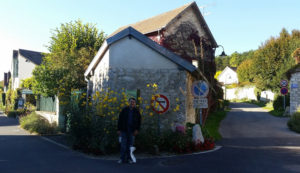 October 3, 2016 – Loire Valley Tour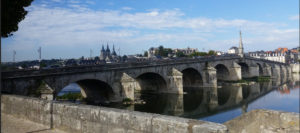 We found a tour that included Chenonceau, Chambord and wine tasting with lunch at a quaint small family vineyard.  We book this excursion through Viator. This is an all day deal and you have to get up at the butt crack of dawn.  Sleep on the bus, so you have energy for the rest of the trip.  It takes about three hours to get to Chambord, but the scenery is amazing.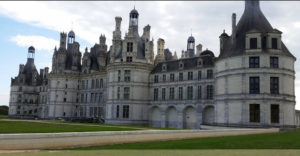 Chambord is supposedly the the inspiration of Beauty and the Beast; big, empty and cold.  It was built as a hunting lodge for King Fancis I of France.  There are shops in the town outside, but the castle is so impressive that I wouldn't tear myself away to shop.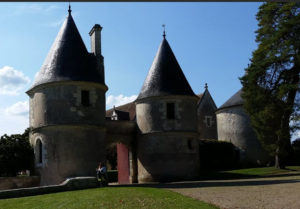 From there we went to a family owned vineyard and had a group lunch.  It was nice to meet the others in the group.  Most were Americans, since it was an English speaking tour.  The family was very gracious and chatted with us throughout the meal. I bought many bottles of wine here.  BTW, french wine is very inexpensive in France.  A $6 bottle of wine there would be $30 here.
Finally we went to Chenonceau.  This history is fascinating.  I traveled to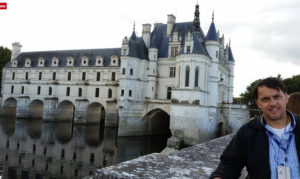 France when I was fifteen years old and remembered it like it was yesterday.  I told Eric, all I wanted to do was see Chenonceau again.  It was as beautiful as I had remembered it.  For the wine tasting they took us to a traditional cellar.  If you are able to make it to the Loire Valley, this should be a the top of your list.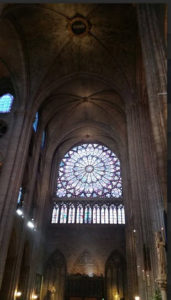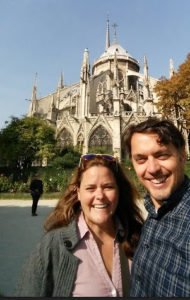 October 4, 2015 –  Last Full Day in Paris, Got to Hit it Hard
At this point you have to ask yourself, what have we missed?  Time to head back to the Louvre and squeeze some more must sees in.  Then off to Notre Dame.  It was Sunday, so when we walked in it was in the middle of mass.  This added to the beauty.  Take the time to walk around the rectories and exterior.
Eric could hardly contain himself.  The moment had arrived for what he had been waiting for.  Paris St. Germain vs. Marseille.  These tickets we difficult to get.  Not because they were expensive or sold out. It is difficult to figure how and where to get them.  Until a couple of weeks before, we struggled finding out what their schedule even was.  We Facebooked with people in France and they told us "fat chance".  Finally Eric found a site that sells tickets to Americans.  The trick is you have to have a credit card with an address in the United States and US IP address.  The tickets ended up being a reasonably priced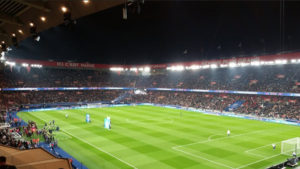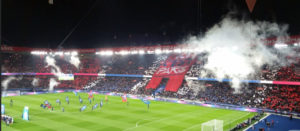 and lucky us, they were playing while we were in town.
Things are different in Paris.  Police carry visible automatic weapons outside the match and in the subways following the games.  Note that this was three weeks before the Paris attacks.  When we got there you have to have your ticket and photo ID.  This way you cannot sell your tickets.  Then you can only enter your section of the stadium.  Once inside you have to stay in your section; buy food only in your section, pee only in your section.  They don't sell beer at these games because they are rivals, to prevent rioting.
In the United States it is probably 3/1, men to women at sporting events.  At the PSG game it was more like 30/1.  These are not real stats, just my observations.  I totally stood out.  Oh and their fans were dressed so nice, scarfs and fancy sport coats.  The men kissed each other hello.  They would chant, "Ici, c'est Paris" in their pretty accents.  It all seemed so polite and proper.  After awhile I was trying to figure out what the other chant was and then it dawned on me, "Marseille, F%#! You!  Hmm, it didn't sound so rude with their french accents.  Best of all they had a moat around the field.  Yes, you read that right, a moat without water.  No rushing the field or throwing things.  Awesome.  Ibrahemovic set a record (Paris St. Germain scoring record) and scored the only two goals.  We had the time of our lives.
After the match we headed back to our rented studio apartment, stopping at McDonalds on the way.  Had to be done and nicer than in the United States.  Started to hear news of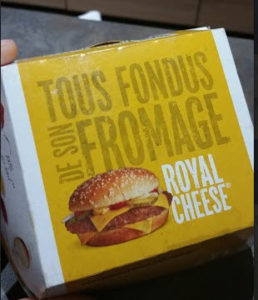 terrible flooding in the South of France.  We are supposed to take the TGV to Nice in the morning.  People are saying that we can't and shouldn't go.
Stay tuned to France Part 2 – Nice