October 5, 2015 – Travel Day, Paris to Nice
Prior to our trip we bought Rail Europe tickets from Paris to Nice.  The earlier you buy your tickets the more you save.  A certain number of tickets are available and each price point.  Once they are sold then the price goes up.  We opted not to upgrade to first class, so our tickets were around $50 a piece.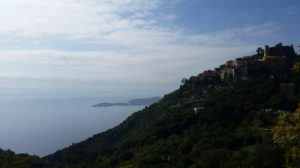 The morning of our departure we were informed that 20 people had died in the South of France because of a flash flood.  Parisians were distraught over the news and they advised us not to continue on.  We were meeting friends in Nice and didn't have anywhere to stay in Paris, so we decided to risk it.
We called an Uber and headed to the train station.  Our Uber driver was fantastic and is cost us about $8 from the Airbnb we had rented.
Upon arrival we were told that our train was cancelled because the tracks were washed out.  Our tickets were also non-refundable.  I started to panic and get sad, Eric does as he always does and kept a cool head.  Our train was still heading South, but only to Toulon. Toulon is still about an hour and half drive from Nice, but hey we got on the train anyway.  This was one of the more adventurous things that I have done in my life.
I was actually very pleased with our Economy Seats.  Eric had been adamant that he did not want to drive in France, but here we were trying to book a rental car from Toulon to Nice while traveling over 200 miles an hour on the TGV.  FYI, DO NOT look out the window when traveling this fast, you will want to puke.  When traveling 200 miles an hour Wi-Fi is spotty. Eric would think that he had the car just about reserved and then it would drop.  This was also a problem when trying to use a  credit card in the bar car.  Make sure to have cash with you for this very reason.  Alas, he rented a car.  Whew, now to relax and enjoy the French countryside while traveling for four hours.
When we arrived in Toulon the car rental area was packed (lots of stranded people).  Also, the air conditioning was broken and it was 90 degrees Fahrenheit outside.  When we got to the car rental desk we discovered that we made the reservation from the wrong city and they didn't have our car.  Luckily someone had just turned one in ten minutes before, It wasn't clean and it was dented, but it was ours for the exorbitant price of $300 for 24 hours.  (After getting back to the states I would fight with the Travel Insurance company that we had paid extra for to get them to cover this cost.  Turns out that since we used our American Express, they would have covered it without paying anything extra.  Lesson learned, no more travel insurance for me.  I will depend of American Express).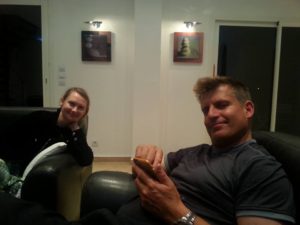 Most rental cars in France have manual transmissions.  I can not drive a stick shift and Eric hadn't in years.  Luckily, he agreed to do all the driving.  It was a beautiful drive and on the way we happy to hear that one group of our friend's had successfully made it to Nice on their buddy passes.  Sadly, the other couple that was meeting us had passport issues and did not make it.  (Moral of the story, make sure our passport in order well in advance of traveling internationally). We arrived, settled in, and caught up with one another.
October 6, 2015 – Eze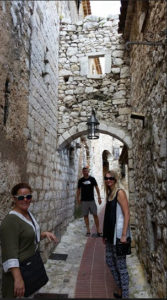 First thing in the morning, the four of us headed to the airport to turn in on car for another car for the week.  Once Eric had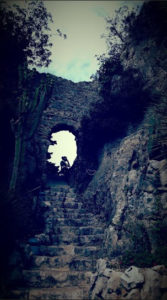 driven he had gained the confidence need for the rest of the trip.  This was the best decision for the Riviera.  The Riviera is pretty spread out, but with a lot to see and do.  The cars sunroof extended across the entire roof.  Great for sight seeing, even from the back seat.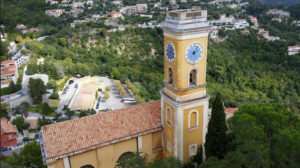 The Harps are fabulous travel
companions and are up for just about anything.  Eric and I really like to be on the go and so do they.  After consulting our Froder's travel guide for France we decided to venture to Eze.
Before the trip I had never heard of Eze.  It was remarkable and not too far from Nice.  We had fabulous Mediterranean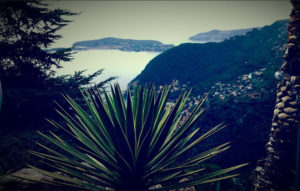 pizza, explored the narrow streets and visited the gardens Le Jardin Exotique d'Eze. The gardens have a small fee, approximately $5 per person and the views are spectacular!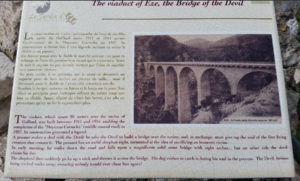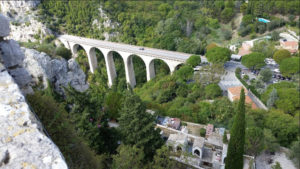 One cool feature of Eze is The Devil's Bridge that was featured in Alfred Hitchcock's films Easy Virtue and To Catch a Thief.  Legend has it that a man made a deal with the devil so the devil would build the bridge. Anything to cross the bridge would have the devil claim it's soul.  The man upon seeing the completed bridge throws a stick across the bridge and a dog goes after it.  The devil claims the dogs soul.  I love my dog, so this story totally bums me out.
October 7, 2015 – Nice
Our rental h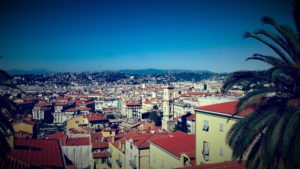 ouse was right in Nice, but up a big hill.  Our car became very valuable.  Everything that I had read said that parking in Nice was atrocious.  However, if you are will to pay to park, it isn't that bad.  There are underground parking garages all throughout towns of the Riviera.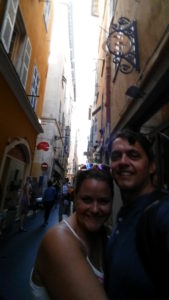 Nice has so much to offer.  We walked along the Promenade des Anglais. The weather was still in the 70s in October, so it was pleasant.  (I sincerely hope that the recent terrorist attack that occurred here does not deter visitors.)  Many of the restaurants and bars along the beach were closed while they cleaned up from the flooding.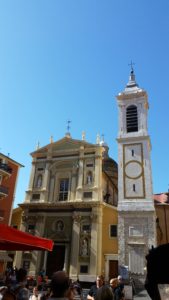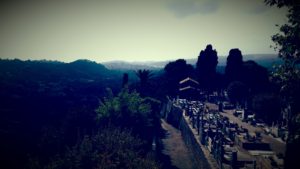 We enjoyed the churches, the narrow streets full of life and the cemetery not as full of life. Ha ha.   The cemetery housed the remains of many famous people including Emil Jellinek-Mercedes.  Vroom, vroom!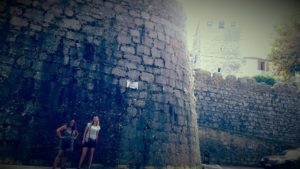 October 8, 2015 – Vence and Antibes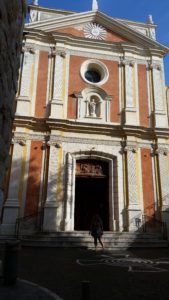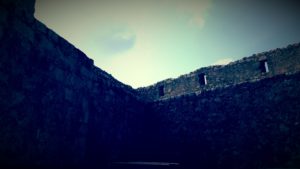 We started off our day driving to St. Paul de Vence at the recommendation of many, many friends. The narrow alleyways winding through the shops and art galleries were beautiful.  This fortress like town should not be missed.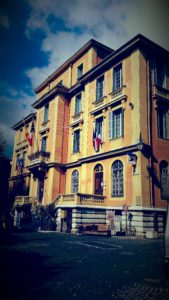 One downside was sitting down to a beautiful restaurant over-looking the hillsides only to find out that they did not take any credit cards.  This is actually very unusual for France.  We chose instead to grab a gelato to tide us over until we arrived in the city of Vence itself.
The city of Vence was nice, but if you don't have the time, don't worry about missing this one.  We wandered the streets, saw a cool church and had some yummy steak frites.  Up side, the wine was cheep and they had ice for your large American style soda.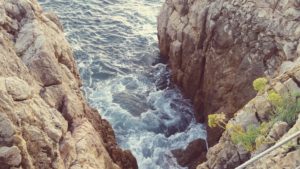 After this we ventured to Antibes.  I adored this town.  We started by going to a public beach that  was man made and protected you from the current.  The bathrooms were horrid, so try to avoid those.  Since the water was pretty cold and it was October, we just dipped our toes in.  Apparently there were much nicer beaches, but we did not do much research regarding this before hand.  I suggest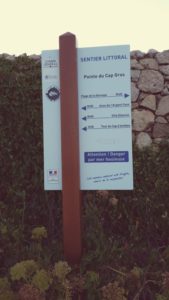 reading http://www.etraveltrips.com/5-of-the-best-beaches-in-antibes-france/ .
The shopping was nice in the town and it didn't seem quite so touristy.  Oh course we stopped at a cafe for crapes and wine.  YUMMY!
How to top off a beautiful day in the south of France?  Take a frightening hike on the rocky shores of Antibes.  I had low blood sugar and was very tired.  Amanda, Mike and Eric were up for adventure.  I was freaked by the signs warning of death.  I am not a fan of death, however I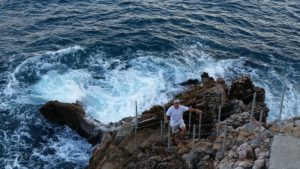 am not a buzz kill.  We got a little bit of a late start, so I made us rush back to the car once it started getting dark.  I did not need to add another element of danger to our hike.
Many famous people live in Antibes, including U2's Bono.  We believe that his home backs up to these rocky shores that we traversed.  I wonder if he would have come and saved me if I would have gotten injured?  🙂
PS: Mike Harp is one crazy dude!
October 9, 2015 – Monaco
Monaco is a tiny country on the Mediterranean Sea that is surrounded by France.  It takes about 30 minutes to get there from Nice.  On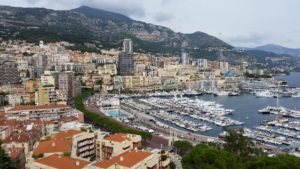 ce in the country it does not take long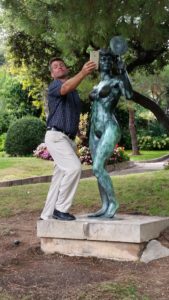 to drive from one side to the other as long as you are able to successfully navigate the streets.  Parking is plentiful if you are willing to pay about twenty five euros.  The parking is well planned and you are able to find available spots by looking for a green light over the space.  American parking lots could learn a lot from this design.
One of the first things we did was head off to the Royal Gardens and Palace.  While in the gardens we had a good time taking silly photos with statues.
I had been to Monaco once before when I was 15 years old.  Our tour guide told us that the palace was not worth seeing, which of course made me want to see it even more.  The Royal family still lives in the palace and the tour was fascinating with wonderful history. Nevertheless, I think that my tour guide 25 years ago was wrong.
We found a hidden treasure for lunch with Arrow Burger.  The owner, from Sweden, had lived in New York before moving to Monaco.  He chatted with us for a half an hour about his business model and what brought him to where he is now.  The food was outstanding.  I would strongly suggest adding Arrow Burger to your to-do list.  If you get lucky the owner will be in and up for discussion.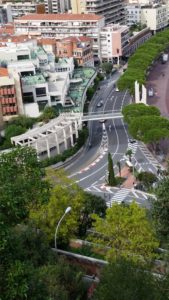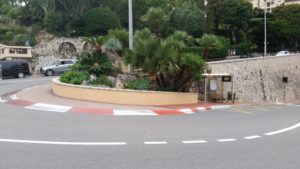 Monaco is also well known for the Formula 1 Grand Prix des Monaco which is held in May.  To the left is the "worlds sharpest hairpin turn".  Eric was pretty impressed with himself for driving our rental car along it.  Someday I hope to make it back to Monaco to see this race.  It is hard to imagine the Formula 1 cars racing through these tight streets.
Last on our Monaco agenda is to gamble at the Casino Royal, which has been features in many movies, from James Bond to Spy.  I wore a dress that day so that nothing would stop us getting in.  The cars in front of the casino ranged from Royal Royce to Maserati.  You are able to walk into the beautiful casino, but you need to pay 10 euros to enter the actual casino.  For some reason I got all weird about i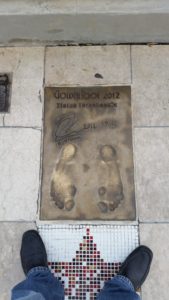 t and we didn't pay to go in.  I was intimidated by the situation, which isn't like me.  I regret not going in.  We did however go in to the adjacent casino.  I played slots and won 20 euros.  I was ready to throw it back in when Amanda said, "Now you can say you won in Monte Carlo, let's leave".   She was right, so we left.
We stopped on the pier to have a drink and a snack.  The service was definitely lacking.  Not sure if that is typical of Monaco.  Eric enjoyed the walk of fame displaying the footprints of soccer legends.
After our snack was less than fabulous we decided to head back to Nice to celebrate the Harp's last night with us.  This was a fabulous idea!
Sadly the Harps, due to their stand-by situation, had to leave a day earlier than us.  We wanted to go out with a bang.  We went into to the market area of Nice.  A market by day, but is transformed into multiple restaurant patio areas for dinner.  The makings for dinner come from the market that stood in their place earlier in the day.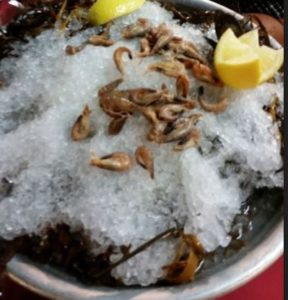 Amanda and I were hell bent on seafood linguine.  One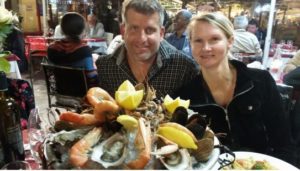 host claimed to have seafood linguine, but then they were out.  We go up and changed restaurants.  You wouldn't believe the death stare that the one host was giving to the hostess of the restaurant that we ended up at.  They were right across the way from one another.  Thee later hostess witnessed what had happened and pampered us.  She brought us shawls and champagne. We noticed that the other clientele did not receive the same treatment. Eric and Mike ordered the seafood platter that came to about $40 US dollars and was more than enough for the two of them.  However they were not too sure about the winks and willies; looked a little like crickets.   Amanda and I were not disappointed by our seafood pasta.  Yum!
Octo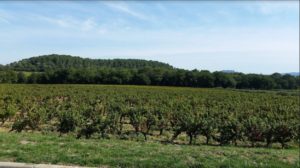 ber 10, 2015- Provence to Saint-Tropez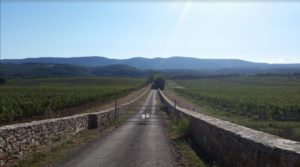 Amanda and Mike had to head to the airport early in the morning.  Eric and I had a full day to ourselves.  We decided to go all romantic.  Many people had told us that Provence was too far of a drive for wine tasting.  We didn't mind.  Eric researched some of the better vineyards in the region and we set off in our rental car.
Many of the vineyards that we went to either were closed or we simply could not find them.  Long winding roads would take us to gated estate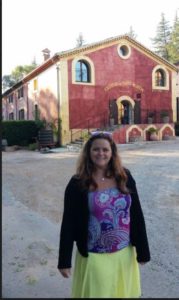 s.  We still enjoyed the adventure and the beauty of the scenery.   We had the best experience at Chateau de Saint-Martin.  Apparently they also have a bed and breakfast. Next time I hope to include this in my stay.  The staff and owner spent time visiting with us.  We tasted and bought several bottles of wine, as well as some delicious olive tapenade (which broke in my luggage on the way home.  Oily gross mess).  This one is a little more out of the way, but worth it!  We did make it to several others that we nice, but paled in comparison.
For our final dinner we decided to head into Saint-Tropez.  I could have spent a full day here.  It was my favorit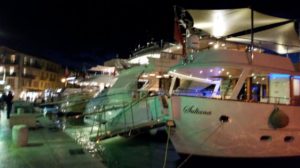 e coastal city in the south of France.  I think that I would have enjoyed staying directly in Saint-Tropez.  Locals spoke English in most of the places we went in France, not in Saint-Tropez. This was actually a nice change and made me feel a little more entrenched in the culture.  We had dinner at an Italian restaurant, which is very common in the South of France.  It seemed as if everyone around was ordering pizza with a side of fries. Everyone orders fries with everything.
After leaving the restaurant we walked on the dock.  The yachts were straight out of "Life Styles of the Rich and Famous".  It was fascinating to see the big fancy parties and dinners that we happening on board.  One day I hope to see the inside of one of these lovely yachts.  This was a magical way to spend our last night in France.
Turns out that Eric left his hat at the restaurant and thanks to Google Translate I was able to fluently ask the hostess for it back.  Now that I know how to use Google Translate, it will be my friend on many adventures to come.
As we were making the hour drive back to Nice we hit a DUI checkpoint.  France has a .05 legal limit.  Eric asked in perfect French, "Parlez vous anglais?".  The police office spoke to him in English and Eric blew a 0.0, safe to drive home.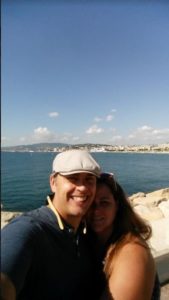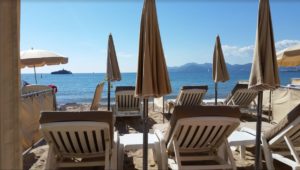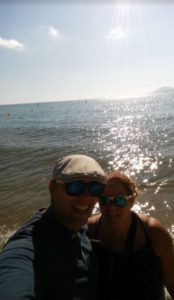 October 11, 2015 – Cannes and Amsterdam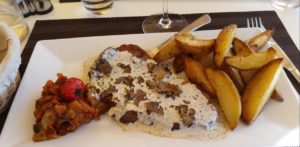 What to do with a morning once you have checked out of your Airbnb?  We didn't need to be to the airport until 2:00 in the afternoon.  We had been avoiding Cannes due the flooding.  We decided to make our way there since it had been a week since the disaster.
I regret not having more time in Cannes.  It is a beautiful city with amazing beaches.  We were blessed with wonderful weather.  All of the fancy stores along the promenade were closed while the damage was repaired. We had lunch at a restaurant on the beach.   Eric's chicken was served with truffles and at the reasonable price of 20 euros. Downside to Cannes is that the parking is difficult, so get ready to walk.
Having traveled internationally from the US, we figured that we had to be to the Nice airport at least two hours early.  Apparently this not how they operate.  You are not allowed to go through security until your are under the two hour mark.  Once you are in the secured area there is nothing but a vending machine to get food from.  Eat before you go.  This airport is very small, but has a decent amount of traffic.  We had a three hour KLM flight to Amsterdam.  KLM seemed to be a nice airline and it was comfortable. Much nicer than Air France.
We had a thirteen hour layover in Amsterdam and were planning on staying out all night in the city… Then we realized that we are 40 years old.  We ended up booking room through Expedia at an inexpensive airport hotel.
Our flight landed around 9:00 pm and we took a train into the city.  I had been told that restaurants in Amsterdam closed up early and that you were out of luck if you need a bite to eat later in the evening.  This was not the case, we ended up having dinner after 10:00 pm at a Venezuelan restaurant.  The food, ambiance and service were all good.
What do you do whe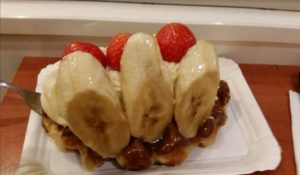 n you are in Amsterdam late at night?  Get a waffle and go to the Red Light District of course.  The city was full of British college students that were stoned out of their minds.  The shopkeeper at the waffle shop was relived that we were able to order without getting supremely distracted, if you know what I mean.  Waffle good!
The Red Light district was bizarre to me.  Nearly 100 windowed doors with women sitting behind them.  Many of the women were on their phones surfing Facebook. No one seemed the least bit uncomfortabl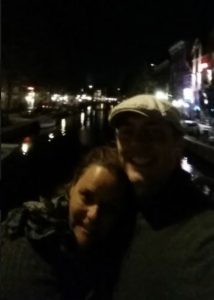 e with men going in an out of the doors.  I never thought that I was a prude before, but maybe I am a little.
In true Bergstrom fashion, Eric and I closed down the bar scene in Amsterdam.  We bar hopped landing at one we really enjoyed.  Closing time came around 2:00 and we headed back to the train to get to our hotel.  I believe we even slept for five or six hours.
Next morning we boarded our flight home with 13 bottles of wine snugly secured in our luggage. Reading back over this I cannot believe the amount we were able to do during this adventure.  Would have do it all over again? Absolutely!  Would I change anything thing?   Probably, I would have spent more time in some areas than others.  My hope is that this helps you make some decisions on what would work for you.  Happy travels….
Next up:; New York City in 4 days!