Why do I teach travel?
I have explored this world a decent amount, but not as much as I would like to.  Having a limited budget presents some challenges for my world exploration.  I wasn't planning on writing a travel blog, but when three different people suggested it to me in the last week…. I figured, why not?
When vacationing you have to ask yourself one important question…
Do I want to relax and enjoy the amenities or will I be out exploring most of the time and just need a place to "shit, shower and shave"?
I am not saying to stay in a dump if you are out exploring, but think about how you want to spend your time and money.  I have found that many things are "nice enough" for me.  Because of this philosophy I am able to afford more vacations than someone that is looking for the best of everything.  Certain cities you will find that you can affordably go big on a smaller budget; such as Vegas mid week.  Sometimes Airbnb is the right choice to save money and have a comfortable home base (worked wonderfully in France).  Looking back at my travels I will let you know what worked and what didn't quite live up to expectations.  We are good travelers, but have learned from our mistakes as well.
When reading my travel blog realize that my Delta Skymiles American Express is a big reason that my family gets to see so many places.  My husband travels for work and we put almost all of expenses on the Skymiles card and pay it off each month.  (Check out my finance blog on how to manage credit and credit cards – which will be available in the future)  Last year I signed up for my own American Express Skymiles card for the buy one get one free ticket and the free bags.  American Express only gives the benefits to the main cardholder.  You can however get free bags for up to nine people that are on your same reservation.  Our family of five is often on two reservations due to using the free annual companion pass for two tickets and Skymiles for the other three.  Besides, I sometimes travel without my spouse.  I do have a life. Yes, we do almost exclusively fly Delta for the Skymiles.  Salt Lake is a hub for Delta, so that works great for us.  Depending on your city, another airline might deserve your loyalty.
I will also be looking at when a car rental is a good idea and when it is a hassle and unnecessary expense.  Sometimes you will be using the Metro and parking is a pain.  Other times you will want to explore the countryside and your Airbnb or hotel have free parking. Is it scary to drive in a foreign country?  Probably, but I don't know.  Not able to drive a stick shift, my hubby has taken on this responsibility during our adventures.  This sounds super sexist (having the man drive), but I do all the other work to plan the vacation. I will forever let him drive in those circumstances.
Vacationing as a couple, with children or with friends call for different strategies.  I will explore how those things factor in as well.  This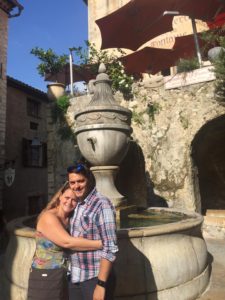 blog is not for one particular type of traveler.  It is very important to understand the characteristics of your travel companions.  Be the easy going one, but know who you can on cannot travel with.  Set expectations early.
France, Mexico, Disney and National Parks are some of the locations I will cover.  I will also look at vacations that I would like to take and have done the research on.  Pretend vacationing is somewhat of hobby of mine.  Pick some dates you would like to travel then log in to Expedia.  Choose "hotel plus airfare" and start dreaming.  I simply change the location to compare costs.  Besides, checking out the hotel photos set my imagination free.  Once you select a hotel you can look at the flight information and see how long the travel will take and connecting legs associated with the fare.  We chose a 13 our layover in Amsterdam on our trip to France, which sounds crazy.  This however, enabled us to explore this amazing city during is vibrant evening hours.
Note: I am a new blogger and I do not have any sponsors.  I am pubbing these companies out for free because these are the programs and companies that have benefited me in my travels.